E-Mail Sorting Solutions is a full service anti-spam filter and anti-virus e-mail solution.
Put an End to viruses now and stop spam!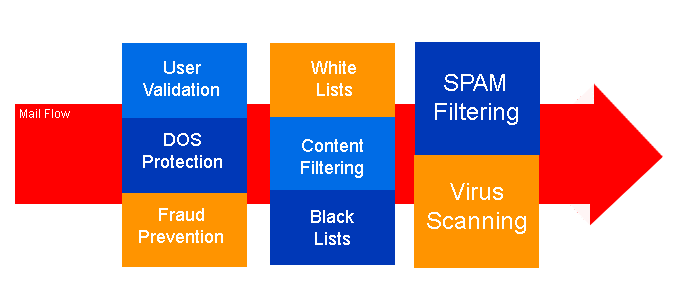 Click a box above to learn more



E-Mail Content Filtering:

E-Mail content filtering is a must have for any corporate E-mail system. Our email system content filtering gives you the ability to control what kind of messages that are sent or received, and what they may or my not contain is a priceless feature.

You can filter a messages content based on:
File attachment type
File attachment size
Where or who the E-mail came from
Where or who the E-mail is going to
Keywords in the Subject or body of the e-mail Message
MIME Encoding type (HTML, Clear text and other types)
Use these available email system content filtering features to block message that may violate corporate policies:
Abusive language in messages and other inappropriate content
Private company information
Private client information
Sending and receiving of certain attachments
The possibilities of email system content filtering are endless. E-Mail Sorting Solutions E-Mail system was designed around a powerful scripting engine that is able to filter E-Mail based on any properties found in a message's Envelope, Header or body. Some of these email system content filtering options are not available in the Web Administrators Login area, but can be implemented by contacting a E-mail Sorting Solutions support representative.
Sign up NOW for a 30-day risk-free trial!