E-Mail Sorting Solutions is a full service anti-spam filter and anti-virus e-mail solution.
Put an End to viruses now and stop spam!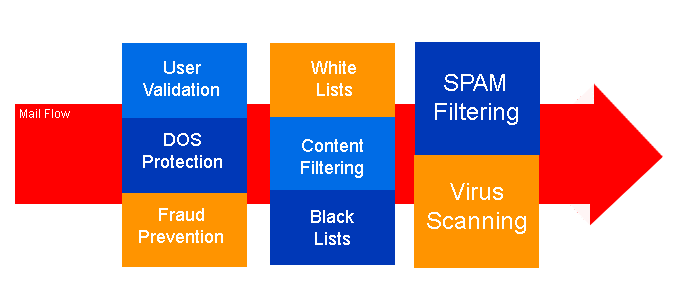 click a box above to learn more



User Validation:

Since the majority of all SPAM E-Mails that are sent today do not actually belong to a valid E-mail addresses. Email Sorting Solutions synchronizes with the address list of your mail server, by doing this we can actually eliminate E-Mail messages for all invalid users and thus greatly reduce the amount of unwanted E-Mail destined for your mail server. Doing this will also free up network bandwidth and server resources.

The synchronization between Email Sorting Solutions and your mail server happens automatically. When you add or remove a user from your E-Mail server, the changes are automatically picked up by our system, and you are ready to go. No need to make user changes twice.

For some organizations this feature alone can reduce the amount of E-Mail messages on their mail server by more than 90%!

If the inbound E-Mail message does truly belong to a valid user in your domain, the message is accepted and is sent onto the next process for filtering.

Sign up NOW for a 30-day risk-free trial!